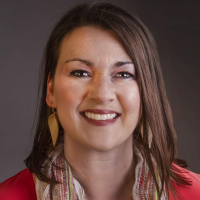 Aimee L. Morgan
Advice & How To, Religion & Spirituality
Profession

Author, Business Owner, Marketing Consultant
Aimee L. Morgan is the owner of Good Aim Communications (www.goodaimcommunications.com), an award-winning WBE-certified marketing communications company. She graduated from Butler University, where she earned bachelor's degrees in journalism and Spanish--and is currently pursuing a master of fine arts degree in creative writing.

Aimee is an avid meditator and mindfulness advocate who completed the Mindfulness-Based Stress Reduction (MBSR) Course developed by world-renowned scientist, writer and mindfulness teacher Jon Kabat-Zinn, PhD.

Aimee lives in Indianapolis with her husband, Jeff, and their two young children. "The Chaos Antidote: A Fable About Mindfulness" is her first book. You can learn more about the author and her book at aimeemorgan.com.